Dear valued customer,
We ship Domestically and Internationally to Singapore, Thailand, Brunei Darussalam, Indonesia, Philippines, Myanmar, China, Hong Kong, South Korea, Japan, India, Australia, New Zealand, Qatar, Saudi Arabia, Iran, Jordan, Egypt, United Arab Emirates, Turkey, Spain, Portugal, Germany, Russia, Netherlands,  Finland and USA.
For International customer, you can contact us if you need further assistance .
SHIPPING AND HANDLING
Kindly take note that we will process and send out all order within 1 to 2 working days after payment is received.
Estimated delivery times provided are to be used as a guide only and commence from the date the order is sent out.
1 – 3 working days for West Malaysia
3 – 7 working days for East Malaysia
3 – 7 working days for International
Deliveries will be made via our designated carrier. We reserve the right to change the delivery charges without prior notice. Please take note that the delivery charges are based on per transaction per delivery. We are not responsible for any delays caused by destination customs clearance processes.
*All product/items will be shipped using EasyParcel service. EasyParcel is a service provider that linked with multiple courier company Domestically and Internationally as we want the best for our customer worldwide.
TRACKING
Once an order is made and sent to the courier company, you will receive an SMS with the tracking number and tracking link from EasyParcel like this: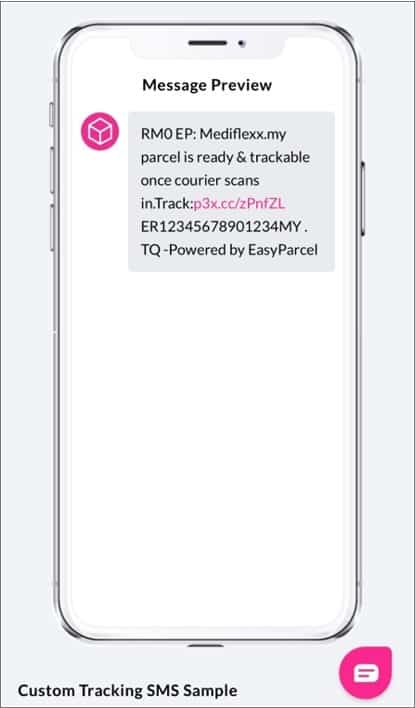 You can also track your shipment at https://easyparcel.com/my/en/track/ using the tracking numbers that u have received.
Thank you for purchasing with Mediflexx.my and we really appreciate your support!